Tod's Topos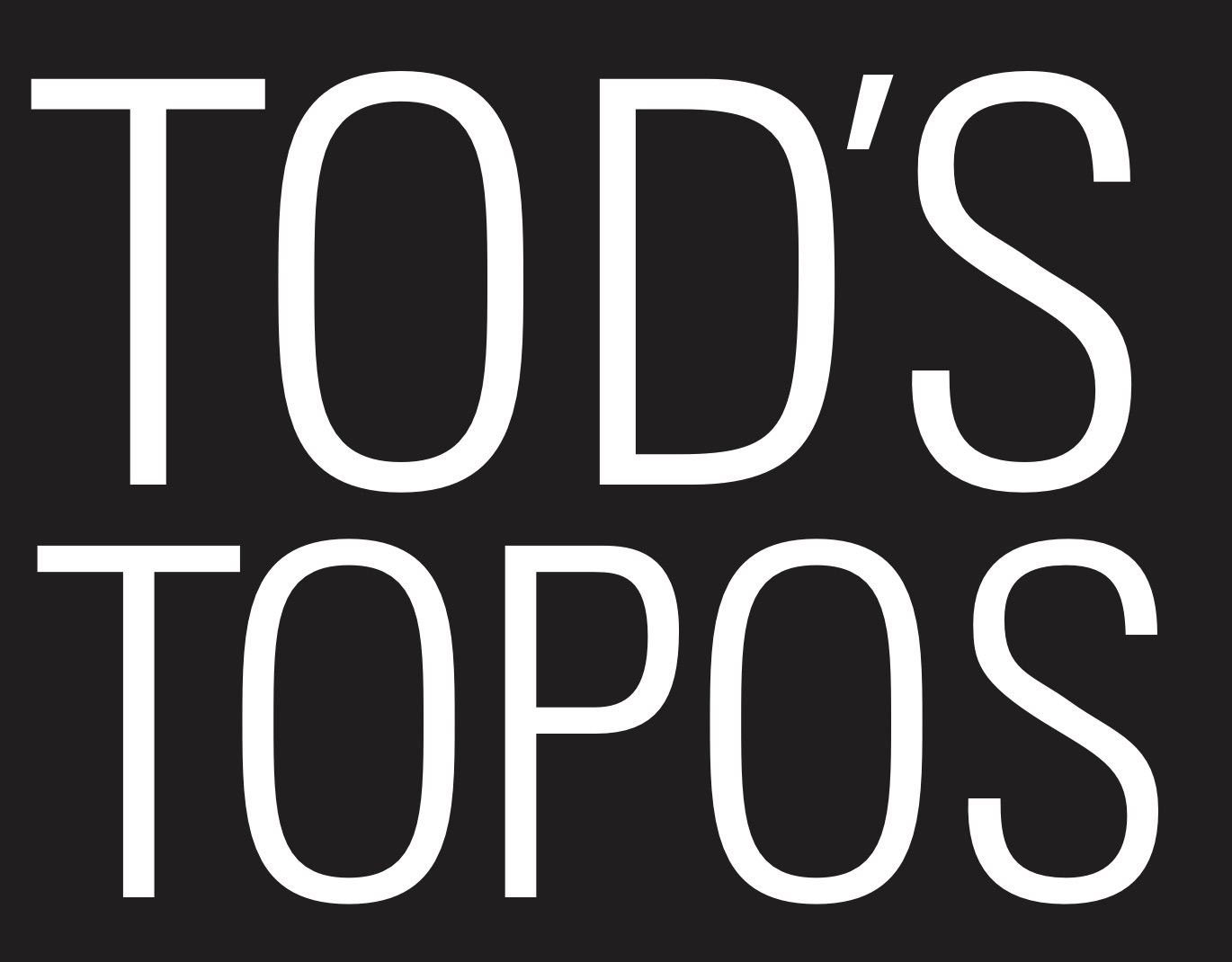 Tod's Topos are topographic maps specifically designed for hiking, camping and other backcountry use. These maps show:
Terrain using contours enhanced by hill and slope shading.
Trail distances.
Campgrounds.
Trail heads.
Background
I started making these maps for my own use when I was unable to find maps that suited my needs for hiking. The USGS 7.5 minute quadrangle maps ("quads") I had used for years are dated and don't show current conditions. New trails have been constructed, old trails have been re-routed, etc. The current "US Topo" maps often don't even show hiking trails. And other custom map vendors seem to focus on the popular National Parks not the local and regional county, state and forest areas I do most of my hiking in.
Once I started making and using my own maps others I hike with and other trail maintenance volunteers asked for copies. This led me to think there might be some demand for these maps.
Compared to historical USGS "Quads"
(Drag the slider to compare maps)
US Topo (left) vs Tod's Topo (right)
Compared to current "US Topos"
(Drag the slider to compare maps)
US Topo (left) vs Tod's Topo (right)
Questions and Answers
Why do you create Tod's Topos?

Neither the historical USGS Topographic "Quads" nor the current "US Topo" maps show the information I want when I am hiking or camping.

What datum and projection are used?

All maps use WGS84 and the appropriate UTM projection for the map's longitude. This means that the "easting" and "northing" values shown on the Avenza Maps app are in UTM coordinates suitable for use in communicating locations to SAR (Search and Rescue) teams. At least the teams I've had the honor of interfacing with in my backcountry volunteer work use WGS84 (or NAD83) UTM locations for ground work. That might be different in other parts of the country.

Why isn't true north up on your map?

My maps are aligned to grid north. On these maps the difference between grid north and true north is less than the usual error in using an orienting style compass. The legend at the bottom of the map gives the difference between grid, true and magnetic north on each map.

And I've notice that many (most?) paper map users are using UTM grid lines without compensating for the difference between grid north and true north. So having the map aligned to true north does not seem to be required by most map users.

Where do you get your data?

Data for Tod's Topos comes several sources:

Contour and hill shading is created from DEM (digital elevation model) data from the USGS.
Magnetic declination data is from NOAA.
All other data including but not limited to trails, roads, buildings, landcover, streams, lakes, boundaries, etc., are from the OpenStreetMap project.

Why is OpenStreetMap data used?

The OpenStreetMap project is basically the Wikipedia of map data: It is largely maintained by volunteers (though large companies like Amazon Logistics and Lyft use it and pay mappers to help improve road data in it).

There appears to be a sufficient number of hikers, mountain bikers and equestrians who are OpenStreetMap editors that the trail data in OpenStreetMap is usually the best available. Licensing makes it very attractive too: You simply need to acknowledge the OpenStreetMap contributors. It seems that other hiking apps like Gaia and AllTrails use OpenStreetMap as well.

Why are there no maps for my area?

Maps are usually for areas I have hiked in since I started using the Avenza Maps app. Or they are for areas I am considering hiking in.

More to the point, they are generally areas that I have done volunteer mapping for OpenStreetMap so I have some confidence that the trails are reasonably well mapped.

If you would like a map for some other area(s), the bounds (latitude, longitude), scale and name(s) for map(s) you would like to have created and I will add them to the build list and inventory.

Any such new maps would be in areas that I haven't recently hiked, so I would be relying on the requestor to assist in keeping the OpenStreetMap data for the map areas up to date.

Have you hiked all trails shown on these maps?

No. Not even close in some cases. Or it has been so long that things might have changed. But I have hiked a lot of them and in a number of cases have worked on trail maintenance projects.

I have had a request to render the trails I've mapped differently trails than mapped by others. The work flow for doing this is not feasible at this time.

I have found errors in your map, will you fix it?

As noted above, data is largely from OpenStreetMap. If you find an error on a map you can fix it by fixing the data in OpenStreetMap. Accounts are free and there are tutorials for how to get started on editing.

If you don't wish to edit the OpenStreetMap data, then please upload your GPS tracks to the OpenStreetMap website. In addition, upload geo-referenced photos of items that are missing to projects like Mapillary. Mapillary allows photos it hosts to be used for mapping in OpenStreetMap. By uploading your tracks and photos the next map editor that tries to correct the trails has better data to work with

Finally, if the above is too difficult then information about the things that need fixing and I will try to work with you to correct the data.

For myself, I usually review the map before going to an area and then while hiking I make notes about how the map can be improved. Once back home I edit the OpenStreetMap data. The next time Tod's Topos are generated the fix will be in them.

How do you make your maps?

I have written a number of scripts and programs to create geo-referenced PDFs. The workflow has evolved and is more complicated than it seems it should be. You can read about some of the things I had to deal with:

Where can I get these maps?

They are available on the Avenza Map store.

Can I get a paper copy?

Maybe. I have found a local printer capable of printing these large PDFs onto 20 pound paper stock however the cost may not make it attractive. If interested please

February 2023

Rebuild all maps with latest OpenStreetMap data.
Ignore some boundaries that are not likely to be of interest to hikers.
New maps for Harding Truck Trail, Riley Wilderness Park, Echo Mountain, and Whiting Ranch.
Bugs Fixed:

Wrong declination on maps: Updated generation scripts for newer NOAA API.
Some National Forest boundaries missing: Revised scripts to load larger OSM data extracts into database. Fixed broken Los Padres National Forest Boundary in OSM.

January 2023

Rebuild all maps with latest OpenStreetMap data.

October 2022

Rebuild all maps with latest OpenStreetMap data.

July 2022

Rebuild all maps with latest OpenStreetMap (OSM) data. Based on a review of locally knowledgable people, the significant OSM updates have been made in the area covered by the Laguna Coast map.
Display names for more localities (hamlets, etc.)
Display ferry routes.
Revise rendering of power lines and fences so the are not as easily mistaken for trails.
Where available, use newer USGS 3D Elevation Program (3DEP) data for generating contours and hill/slope shading. The older SRTM data has roughly 100 foot horizontal resolution while the 3DEP data has a horizontal resolution of around 33 feet. In most areas the difference in generated contours is minor but the additional resolution for hill/slope shading can show more detail.

April 2022

Rebuild all maps with latest OpenStreetMap data.
Extend coverage of Laguna Coast map to include Quail Hill Open Space Preserve.
Extend coverage of O'Neill park map to overlap with Los Pinos map. Between the two maps this should cover the various tail heads along Trabuco Creek Road used for hiking to Holy Jim Falls.
Create new "Whiting Ranch Wilderness Park" map and add it to the Orange County Hiking Collection.
Initial implementation to distinguish unofficial ("social" or "desire") trails from official trails. This also starts to label some access restrictions on the trails. This is a work in progress (partly because the OpenStreetMap community has not agreed upon the best way to map this type of information on trails).

September 2021

Rebuild all maps with latest OpenStreetMap data.
Add rendering of linear piers.
Add trail route reference to long distance trails. For example the Pacific Crest Trail will have "(PCT)" appended to the trail name.
Create "Woodson Mountain" map covering the trails to "Potato Chip Rock".
Increase area covered by Caspers Park map to overlap with coverage by the Arroyo Trabuco map.
Increase latitude covered by San Mateo Wilderness map.

April 2021

Rebuild all maps with latest OpenStreetMap data.
Create "Los Pinos Peak" and "Santiago Oaks" maps and add them to the "Orange County hiking collection".

January 2021

Rebuild all maps with latest OpenStreetMap data.
Create Oracle State Park and add it to Catalina Mountains hiking collection.
Create maps for Arroyo Trabuco, O'Neill Regional Park, and trails around San Clemente.
Create new "Orange County hiking collection" containing above maps Orange County maps and the Laguna Coast and Caspers maps.

June 2020

Updated to latest OpenStreetMap data
Increased area covered by the Laguna Coast map to include the Colinas Ridge Trail.
Adjusted area covered by the San Mateo Wilderness map to include the Morgan Trail head.
Add maps for Santa Catalina Mountains of Southern Arizona.
Better identification of hiking trails within the OpenStreetMap database.
Better computation of distances between trail junctions, trail heads, etc.
Better rendering of land boundaries.
Better rendering of lake names.
Added rendering of city parks.
Rendering of trails now indicates how visible the trail is.
Changed color of UTM grid lines to make them less obtrusive.

May 2020

Initial release of hiking maps for areas in Southern California.